The Canadian government releases announcement about COVID-19 reopening plans.
Prime Minister Justin Trudeau and Canada's premiers agreed to work toward a jointly drafted set of national guidelines on reopening the economy during their weekly conference call Friday afternoon. Federal and provincial sources say they hope to have a common set of guiding principles finalized by next week.
That announcement came a day after Saskatchewan unveiled a multi-phase plan to reopen; the same day New Brunswick revealed plans to do the same.
In addition to the Saskatchewan and New Brunswick plans, the federal government has circulated a set of draft guidelines that could form the basis of the joint document. The Public Health Agency of Canada prepared the federal guidelines, including feedback from provincial medical officers.
"People want to continue to see everybody working together on this," said a provincial source.
Step-by-step reopening plan
N.B. Premier Blaine Higgs released early details of a phased reopening plan for that province Friday afternoon. And in an interview, the prime minister had asked the premiers to submit ideas to develop national guidelines with a goal of moving quickly. Also on Friday, Ontario Premier Doug Ford said that his government will offer some details early next week about its reopening plans.
The framework will provide a "gradual and measured approach, according to Ford.
Speaking outside Rideau Cottage, Trudeau pointed to the different experiences provinces deal with the coronavirus.
"Canada is a vast country and some regions have been hit harder than others during this pandemic," he said. "We're a federation, so we have to adapt our response to the realities and challenges of each province and territory."
The prime minister stressed that "getting back to normal will not happen overnight". Consequently, it will require coordination at the national level to ensure governments are working with similar principles and guidelines.
Conservative Leader Andrew Scheer has called for a national plan, expressing concern about a "possible patchwork approach across the country."
New Brunswick's premier outlined the province's reopening plan on Friday. He said, it would begin immediately with the loosening of physical distancing restrictions to allow two-household gatherings. Post-secondary students, who require access to their campus to fulfil their course requirements, will be able to do so. However, elementary, middle and high schools won't reopen until at least September.
Higgs outlined further steps, with a plan to eventually reopen elective surgeries, child-care facilities, barbers, churches and other facilities in stages over the coming weeks, as long as cases in the province remain low.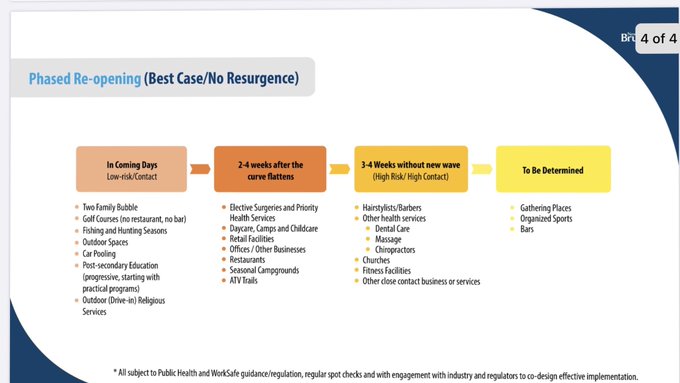 Challenges of loosing restrictions
His announcement came a day after Saskatchewan Premier Scott Moe's similar one, as he said the province had to find the "middle ground" that keeps case numbers low and people safe, while also allowing businesses to open.
Moe said Thursday that they will lift restrictions gradually in phases over a period of weeks. All businesses and public venues will have to keep following physical distancing and cleanliness rules — as will customers.
According to a Johns Hopkins University database, there are now more than 2.7 million known COVID-19 cases worldwide. The death toll raised to 195,000. The U.S., where some states are also taking steps toward reopening, accounts for more than 890,000 of those cases; Friday passed the grim milestone of more than 50,000 deaths.
As of 11:30 p.m. ET Friday, Canada had 43,888 confirmed and presumptive cases, with 15,554 listed by provinces and territories as resolved or recovered.
Public health officials caution that the numbers don't reveal the full story, as they don't include people who haven't been tested or potential cases that are still being investigated.
Dr. Theresa Tam, Canada's chief public health officer, has urged people to behave as though there is coronavirus in their community. There are no proven treatments or cures for the novel virus.
Here's a look at what's happening in the provinces and territories
COVID-19: British Columbia
Hospitalizations in British Columbia fell to 96 on Friday. Yet officials announced four more deaths, including a woman from Alert Bay who died after a declared state of emergency on the remote island by local First Nation and government leaders. "One of our people has passed away," said  'Namgis First Nation elected Chief Don Svanvik. "It's very difficult, we're a small community, everybody knows everybody." Also, a second poultry plant in the province is dealing with an outbreak of COVID-19..
COVID-19: Alberta
Alberta Premier Jason Kenney announced Friday a new $1 billion support program for the province's energy sector, mainly funded by the federal government's COVID-19 Economic Response Plan. The Site Rehabilitation Program will also provide grants to oilfield service contractors. Oil companies have been struggling in the wake of record-low crude prices, caused by a surplus in global production and a plunge in demand sparked by the pandemic.
On Thursday, Dr. Deena Hinshaw, the province's chief medical officer of health, warned Albertans that COVID-19 "will be with us for many months to come." Hinshaw made the announcement as the curve shown in the province's modelling work, released earlier this month, may have left people with the impression that the virus will go away over the summer, which is not the case, she said.
COVID-19: Saskatchewan
Saskatchewan Premier Scott Moe outlined a five-phase reopening plan on Thursday. The first phase will begin on May 4 and will lift some restrictions on outdoor activity and allow medical practices, ranging from dentists to physiotherapists, to reopen with precautions in place. There are no dates attached to subsequent phases, which means the timeline for full resumption of places like restaurants, theatres and gyms isn't yet clear.
A recently released public health order is restricting all "non-critical" travel into northern Saskatchewan, which has the most active cases in the province. The move came after repeated public criticism and calls for help for the area.
COVID-19: Manitoba
Manitoba is set to ramp up surgeries after a month of postponements due to COVID-19. The number of new coronavirus cases continues to be low enough — with only one new case announced Friday. In addition, Health officials say they can pivot some of the system's resources back toward surgeries. "Our numbers have been looking like they're in the right direction. So we're at a position right now where we can start to plan on gradually loosing some of these restrictions.
COVID-19: Ontario
The Ontario government will release a framework early next week for how it plans to reopen the province's economy, Premier said Friday. Meanwhile, Chief Medical Officer Dr. Barbara Yaffe said that despite the province reporting its highest daily increase in cases, officials are "cautiously optimistic" that the outbreak is peaking. Yaffe also said they remain extremely concerned about outbreaks in long-term care homes, as there are 139 outbreaks in such facilities in the province.
COVID-19: Quebec
Quebec Premier François Legault said he would expedite plans to create more spacious long-term care homes in the province. He said the virus's spread through such facilities has created "two separate worlds, one inhabited by the residents of long-term care homes and the other by the rest of society. Quebec recorded another 97 COVID-19 deaths Friday, bringing its total to 1,340 death. The vast majority — about 80 per cent — were residents of long-term care institutions and other kinds of seniors' homes.
COVID-19: Atlantic provinces
The government of New Brunswick announced plans to reopen the province, allowing partial loosening of physical distancing measures. "These are first steps," Premier Blaine Higgs said, imploring people to continue to follow public health guidelines to stop the spread of COVID-19. Large gatherings, such as festivals and concerts, are still banned.
Nova Scotia reported 23 new COVID-19 cases on Friday, bringing the provincial total to 850, with 16 deaths. At a Friday press briefing, chief medical officer of health Dr. Robert Strang said that despite other provinces announcing plans to re-open, Nova Scotia is "not out of the woods yet."
Premier Stephen McNeil said the province has not yet reached the peak.
Prince Edward Island reported no new cases of COVID-19 on Friday for the ninth straight day. Chief Public Health Officer Dr. Heather Morrison said the province received 98 more negative test results as of Thursday; while 24 of the Island's 26 COVID-19 cases have recovered.
Newfoundland and Labrador
Newfoundland and Labrador has gone a full week without any new coronavirus cases. Dr. Janice Fitzgerald, the province's chief medical officer, on Friday praised people for the "dedication" they have shown. He also urged everyone to keep following public health rules.
The Northwest Territories
The Northwest Territories government is revamping its rent assistance program to help during COVID-19.
Source: cbc.ca